Three blind men were walking through the jungle when they happened upon a vast, mysterious animal. The first man touched part of the animal and declared, "It appears we have encountered a giant snake!" The second man touched another part of the animal, and said, "It's not a snake! Why, this is nothing more than a rope." The third man touched the animal and declared, "You are both wrong. There's nothing here at all, only another tree in the forest."
Point of view is everything. For as you probably already know, these three men found an elephant. One felt its trunk, sure they had found a snake. The other its tail and the last a leg like the bole of a large tree. Without looking at the big picture, you're sure to draw the wrong conclusions.
This is my second full check-in of my Last Diet Ever. How is it going, you might ask? You tell me. Are you standing at the trunk, the tail, or the leg?
From one point of view, the month looked like this: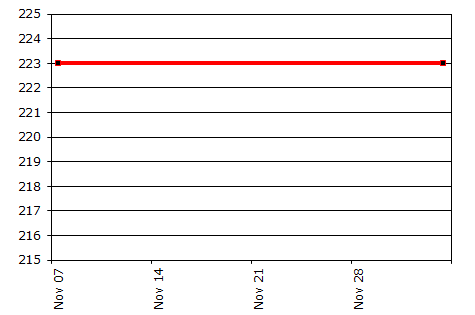 No kidding. My weigh-ins on the first and last day of the month were identical. I don't think I could have done that if I tried. And if we look no further than that, it's easy to say, "Oh well, could have been worse, given the fact that this month contained an unholy amount of mashed potatoes."
But what if we move around to another part of this animal? You can immediately see why I think weighing in once a month is a bad idea. You miss out on all the fun:
Imagine that! In a little more than a week, I was already down three pounds. Now, what about the backside of this animal?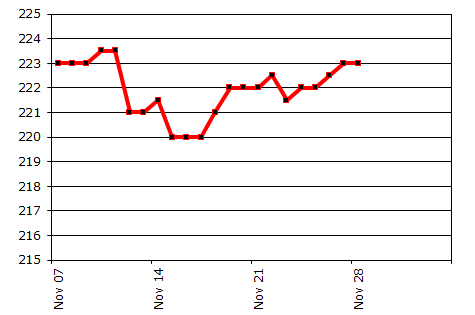 Damn, there it is. In another two weeks I completely erased the month's earlier gain. Granted, this is a period that covered both Thanksgiving and a string of seventy to ninety hour work weeks. So we're not really talking the picture of healthy living. At this point I was ready to write off the month completely. Then a miracle occurred.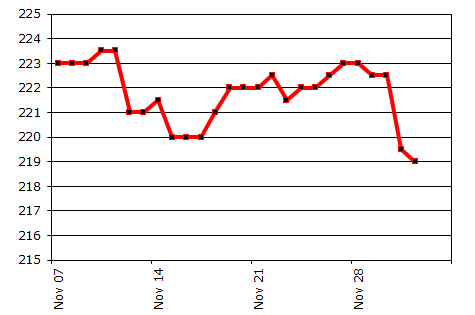 In just days, I lost four pounds. It wasn't even a scale fluke, since I went below 220 two days in a row. Elated, I thought, "Whew! And just in time for my next check-in post." However, at that point the Universe said, "This won't do!" and made another holiday correction: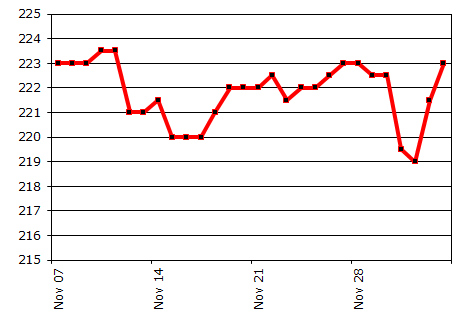 And that's where things stand. Did I lose weight? Gain weight? Stay the same? That all depends. Which part of this elephant are you inspecting? Leave your interpretation below!