On October 3, 2011 I wrote this post about my last diet. And by last I meant final. Because after more than two decades of trying to figure out this weight loss business, I honestly felt like I only had one attempt left in me.
As it happens to turn out (as with so many things I say) I was wrong.
But I'm getting ahead of myself. Let's first step back and see how that so-called Last Diet went. As usual, we begin with a graph.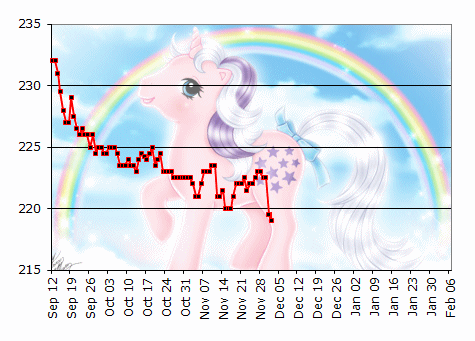 The first eleven weeks went quite well as you can see. The diet even survived Halloween and Thanksgiving, and by December 2, 2011 I had lost thirteen pounds. Not a lot, compared to some other diets I've had in the past. But as this was my last diet, I had decided to take the slow and steady route.
But there was one small problem. The Switch wasn't on. I was certainly going through the motions, and getting some positive results, but deep down inside I knew The Switch hadn't been flipped and this was bound to fail sooner or later. Like so:
The astute reader will notice that the first and last points along the X-axis share the same Y-value. In diet-speak that's what we call "gaining it all back."
My Next Last Diet
On February 13, 2012, disgusted, I decided to try just one more time. And this time, with a plan: gluten-free, dairy-free, and (hardest) artificial-sweetener-free (meaning: no diet soft drinks). Oh, and also: keep it under 2000 calories per day. I even decided to get serious about tracking food again. I logged into MyPlate and was greeted by: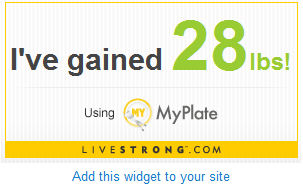 Why yes, I would love to add that widget to my site. I doubt that's the kind of advertising MyPlate was hoping for when they implemented this feature, but who am I to question it?
Anyway, I started this new diet plan and it went extremely well. For one day. Because without thinking, I mistakenly began a diet the day before Valentine's Day, and while dining with Laura that day, I accidentally broke a few of my rules. So I took the mulligan and restarted this last diet on February 15.
Time for another graph!
In the interest of speeding up this blog post, I won't go into the details. Suffice it to say this was working and I rarely felt hungry. I logged what I ate every day and I most definitely felt like The Switch was on. Fer real. This was it.
The Unexpected Diet
Though this plan was going well, it still didn't have quite the "oomph" I was looking for. Slow and steady no longer held the fascination over me that it once did. I wanted to kick this into high gear.
So after doing some more research, I found the most sure-fire diet imaginable. Here it is in a nutshell:
Either via genetics or known carcinogens, get cancer.
Begin treatments.
Watch the fat melt away.
Please, as with all diets, check with your doctor first before beginning any new diet or exercise program. Back to the Fridge is not responsible for your health and well-being. Do not attempt this at home. Professional driver on a closed course. Offer void where prohibited.
Here's something I learned while in the hospital for ten days. A semi-functioning liver coupled with 157 saline bags dripping into my IV coupled with no exercise can only lead to one thing: serious fluid retention. My weight graphs show a very large gap between April 3 and April 17, so I really have no idea what sort of ups and downs occurred while bedridden. All I know is that before I went in the hospital I was about 220 and my first at-home weigh in afterwards was 222.
Now, with everything going on with me, you'd think the last thing I'd be concerned with is my weight. But I had to admit I was a trifle disappointed by the two-pound gain. Until I realized it was the fluid retention. My first clue that I was retaining fluids at all was the balloonish nature of my feet, my giant, swollen ankles, and my legs which recalled sturdy, young oak trees. At first, I was afraid I hadn't taken any pictures of this mess. But as I flipped through my camera, I managed to find one:
Fortunately, as my body began to heal, it also began to rid itself of the excess fluids. The day after I weighed in at 222, I was 211. Wait a sec. 211? Seriously? I stood there and blinked and weighed myself again. Still 211. "I lost eleven pounds in one day? Holy crap."
The next day I weighed in at 205. "I lost six more pounds in one day? Double holy crap."
The next day I weighed in at 201.5. By now my feet, ankles, and legs looked perfectly normal and I had lost a grand total of about twenty pounds in three days. (And based on official doctor visit weigh-ins, it was twenty-six pounds in four days.)
Can we see that last graph?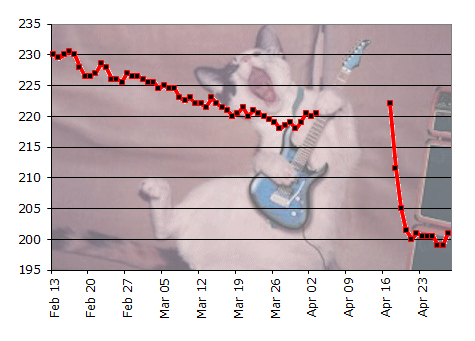 The astute reader will even notice I dipped into Onederland for a couple days. But, once the Universe realized that happened, it bumped me back up to 201, which is where I've been hovering ever since.
So that's my diet update. While I'm not entirely thrilled with this whole Linoleum thing, I have to admit that, all else aside, this whole unexpected diet "success" was entertaining to watch unfold. I know I'm definitely in for some rough times ahead, and future weight changes might not be as fun to observe. But for now, I'll take whatever enjoyable diversions I can get.