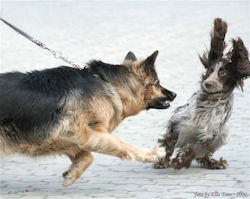 I started this blog way back in 2008 for three reasons. First, as a promotional tool for my "diet" book. Second, as a public outlet for my writing. Third, as a way for rich people to find me and send me large bags of money on a regular basis.
At the very beginning of this year I decided to put the blog on indefinite hold. As I stepped back and looked at the big picture, I realized I'd probably said everything I was ever going to say on the topic of dieting. It's a sad day when you first think about putting a long-time blog on hold. It's a sadder day when you actually do it. Saddest still is when you realize only about eight people even noticed.
No, I take that back. Saddest is when you realize that in all those years not a single person ever sent you a large bag of money.
Back to Back to the Fridge
So what brings me back now? Well, to put it succinctly: new material. Except this time it isn't about dieting. No, this return to the blog has been spurred by something I didn't see coming at all.
It began innocently enough. In about the second week of January, I first noticed this sensation in my chest, like maybe I was about to get a cold or something. But no cold ever materialized and nothing ever came of it beyond an occasional cough. I continued to work at least twelve hours a day, eat like crap, and never exercised. What could possibly go wrong?
Um, I Don't Feel Well
By the start of March, though, the cough had become very real. I was also outwardly beginning to look ill as evidenced by the sharp increase in the number of daily utterances of "you look like crap" at work.
Headaches were soon added to the mix and I decided to visit the doctor. Daily fevers (typically between 102 and 103) then began and I decided to visit the doctor again. Days passed without improvement and I decided to visit the doctor a third time. This time they looked at my blood and, by golly, they found some abnormalities.
So it was off to the ER the very next morning (April 3, 2012). I arrived at ten o'clock, had a CT scan of my abdomen, and by seven that evening found myself in the hospital bed I'd spend the next ten days in. After a couple biopsies and other tests, it was determined I had some sort of cancer called "Bob Hoskins Linoleum."
Did I Miss the Signs?
I wonder how many people in my situation look back at the symptoms and think, "Man, I really should have seen the signs! How could I have overlooked this for so long?" But the thing is, at least for me, it never would have crossed my mind that what I thought was just a bad cough was actually cancer. There were no obvious signs: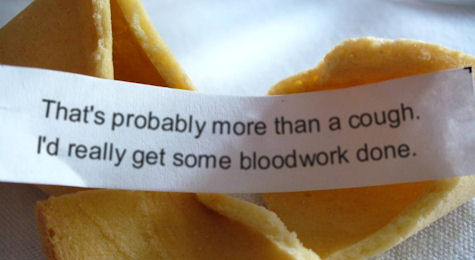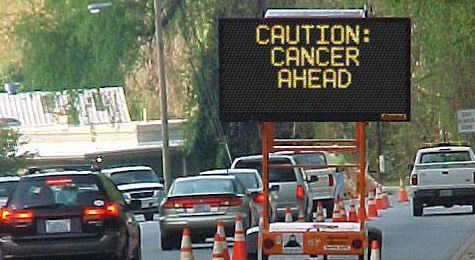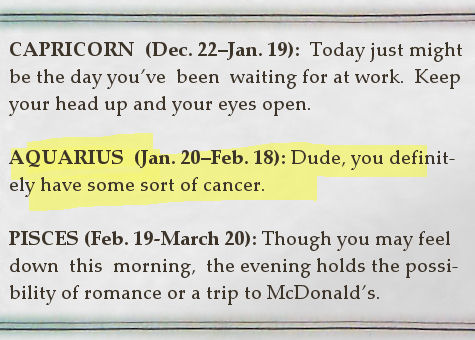 We Need to Fix This Guy
The hospital stay is mostly a blur. I had visitors which I don't even remember. I had things that never actually happened that I do remember, thanks to regular deposits of hydromorphone into my IV tube.
As expected, word got out on Facebook of my condition, along with a now-infamous photo posted by my wife (apparently with my narcotics-induced consent). Though today I wish it had never been seen by the masses, I'll provide a preview here anyway for the curious: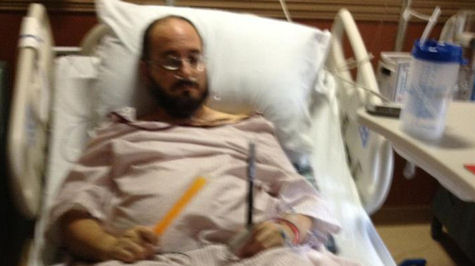 I'm holding popsicles, in case you're wondering.
You know, now that I think about it, I believe this photo alone might have caused more concern among friends and family than anything else ("putting a face on it" so to speak). Here's an actual, unretouched photo of friends and family reacting to my condition: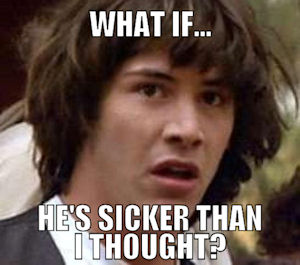 For the record, the answer to that (I've since learned) is: yes, I was.
So Now What?
So far, I've bounced back very well. I'm doing things today I wouldn't have dreamed of doing even just one week ago: actually checking email, going out to a movie, baking and decorating six-tier wedding cakes, and so on.
But I also know I've only just begun. I've had only one of what will ultimately be six to eight chemotherapy treatments. The only reason I feel good right now is because they've been able to restore essential functionality to my system (not to mention it's now been two weeks since chemo, so most of those side effects have passed and are only waiting to return next week).
So I have no idea what I'm in for. But I'll definitely do my best to continue posting here regularly for anyone interested in my progress, my writing, or even my mailing address. I am, after all, still expecting those bags of money to come rolling in any day now.