I was installing a software package the other day [please note: I'm at the point in my life were "the other day" means anything from "yesterday" to "six or more years ago"] and became oddly mesmerized by the progress bar.

I should say it wasn't anything about this particular progress bar that got my attention, just the concept of the progress bar in general. I've been exposed to them, of course, for decades now (ever since the late 70s when progress bars were implemented by gerbils slowly dragging used typewriter ribbons across the monitor). But this time around the thought occurred to me: what if we had progress bars everywhere?
Think about it!


The more I pondered it the more intrigued I became by this idea. And then that's when it hit me: What if you had a progress bar for your overall life? What would that be like and how would it affect the decisions you make?
The life expectancy for the average American male is around 75. Since I'm hardly average, I'll go ahead and bump that out to 80 (mostly because I never go outside, so I'm in less danger than most of being killed by badgers). So if that's the case, my progress bar would currently look like this:

Well, it's official. I can no longer pretend I'm not middle-aged. (Yes, a simple progress bar convinced me of what my receding hairline could not.) However, this doesn't really paint the full picture. Personally, I'm not so much concerned with the total time remaining as much as the useful time remaining. Case in point: I've already decided to spend the entire last decade of my life catching up on all the television shows I've missed over the years: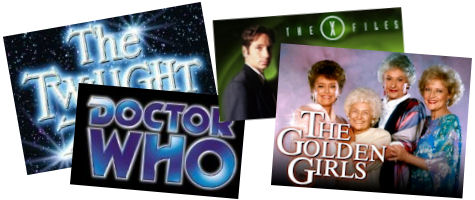 So my effective progress looks more like this:
Uh oh. Now I'm worried. Because I'm not sure if that's enough time to knock off all the items on my Bucket List: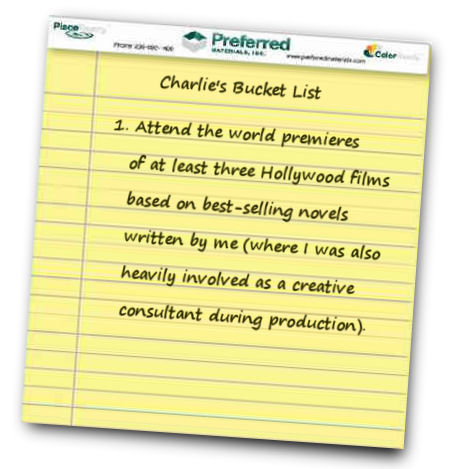 Given the fact that I'm now sitting at Useful Life's 65% Complete mark, I might have to adjust my goals. For example, settling for just two major motion pictures and one made-for-TV movie (airing on any channel but Hallmark or Lifetime).
It's still a tall order but I think I can still pull it off. All I have to do now is write a stupid novel.
So does anybody have any good, multi-million dollar ideas they're willing to share? If so, I'll let you come to the premiere with me. :-)

I've written over four hundred blog posts over the last several years. As we kick off yet another year (and as I look over my Bucket List again) I realize one of the many items not on the list is "Write four hundred more blog posts."
While I could do that, I'm forced to ask myself: what more that would get me? What would I say about the trials and tribulations of dieting that hasn't been said a thousand times over? Thoughts such as these have spurred a fair bit of soul searching on my part lately and I keep coming to the same conclusion: Back to the Fridge has hit a major milestone:

It's time to move on.
Now, for the record, I'm not going to call it quits completely. I know far too much about myself to believe I can make a decision like "quit the blog" and actually stick to it. ("Never say never" is just one of my many, many mottos.) But I can say with some certainty that we're at least looking at a healthy hiatus.
If you'd like to stay notified of any possible future activity, please subscribe to the Feedburner service over there on the right. Or just send an email to charlie@you-know-where.com and I'll keep you in the loop. Or, if you're feeling really inspired, just leave a comment below. I love comments.
In closing, I will definitely say that this whole blogging thing has been quite the experience, full of more ups and downs than I ever expected. My sincerest thanks to everyone who came along for the ride. After all, the only reason to write is to be read.