It's time, once again, for my annual Halloween Pumpkin Carving post. Last year I took the opportunity to catch up on a lifetime's worth of pumpkin carving. If you're new here, feel free to go read that post, then come on back. If you've already seen all the old crap and are simply waiting for something new (finally), then read on.
This Year's Subject
I decided to continue my Harry Potter trend: primarily because it prevents me from having to think too much. After carving Harry and Hermione the past two years, Ron was my pre-selected choice for this year. But after spending, nay, wasting hours trying to devise a suitable pattern, I gave up. Sorry, Ron. Maybe next year.
I decided to switch to Dumbledore.
But that only raised the question: which Dumbledore? Richard Harris or Ian McKellen?
Just kidding! Hold off on the angry comments. I'd lose a lot of geek cred mixing up Michael Gambon with the actor who played Bilbo Baggins.
Anyway, after a few minutes of soul-searching (read: mindlessly eating toast and peanut butter) I opted for Dumbledore Number Two (six films beats out two). I began with this image: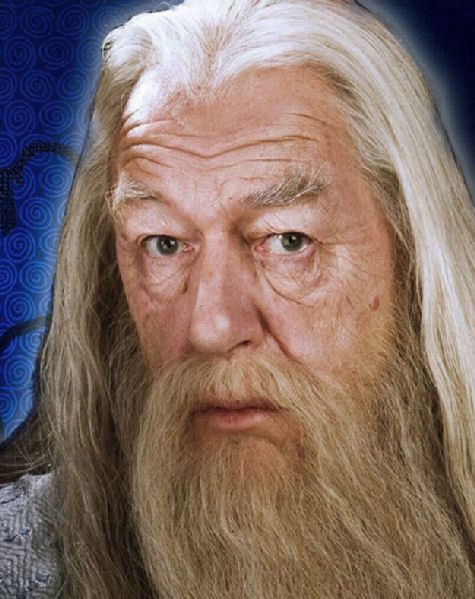 My technique for converting said picture to pumpkin design remains the same:
Time to Get to Work
With the final negative image in hand, I then measure the pumpkin, appropriately scale the photo, and print out the negative: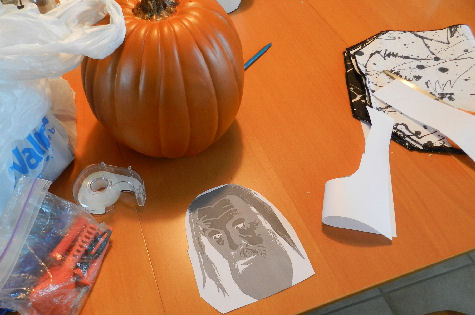 It's then moved into place.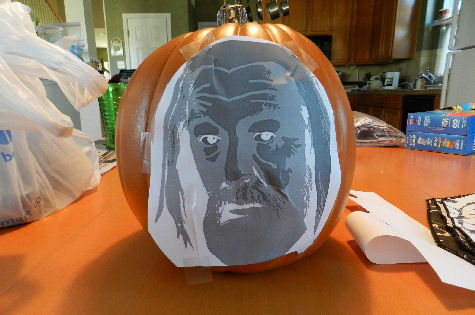 I then cut out the bottom of the pumpkin. (As you can see, I'm still using fake pumpkins for my carvings. This is the fourth year in a row for that and I'm still glad I made the switch.)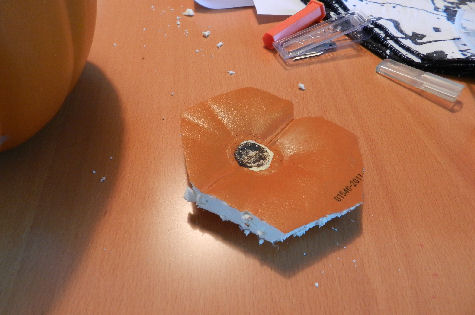 With the negative affixed to the pumpkin, I whip out my trusty Xacto blade begin slicing and dicing.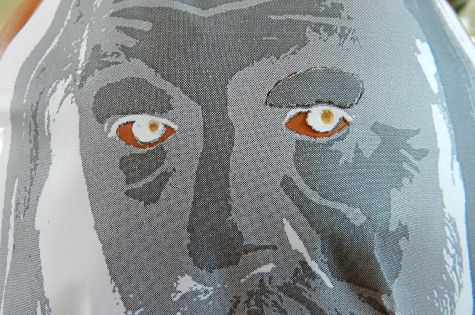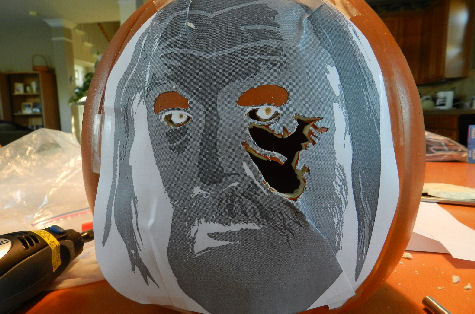 This takes a while. And it still kind of hurts my hand, so I try to spread out the work, taking frequent naps between sections. I also normally eat a frozen pizza and watch It's the Great Pumpkin, Charlie Brown on loop while working. But I did neither of those things this year. I was hoping these changes wouldn't jinx this year's effort.
When all my holes are cut and other outlines made, I remove the template and begin the real work.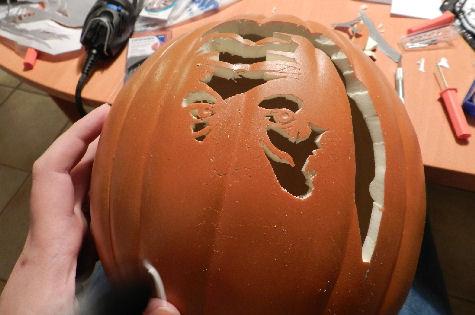 This is the second year I used my Dremel tool to help with the carving. I bought two new bits to help out: one to poke holes for the specular lighting in the eyes and another to carve out large areas. I then used a sanding attachment to do the texturing. This helped out immensely with the beard and hair.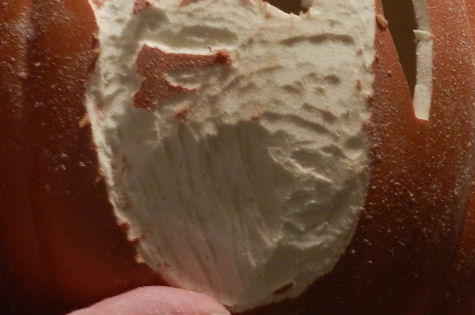 My pumpkins became more elaborate when I realized I had three colors to work with (carved, not carved, and half carved) instead of two (carved, not carved). But this year I took it even further. I realized that with the right Dremel attachments, I now had a wide spectrum of "half carved". This dawned on me about halfway during the project and I subsequently took full advantage of it.
Also, my hand isn't this big (nor is the pumpkin this small). I think we're seeing some forced perspective in this particular shot: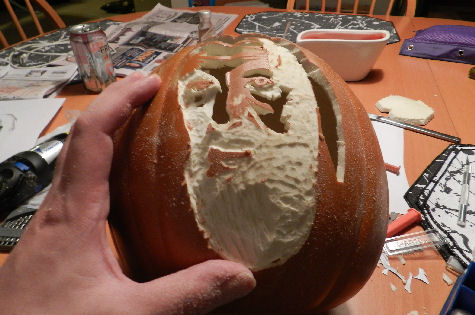 We're getting closer! The spot on the end of Dumbledore's nose in this shot is a flameless tea candle. This was also a new step for me this year: carving a lit pumpkin with the lights off. Being able to see the final results of my labor while carving was another immense productivity boost.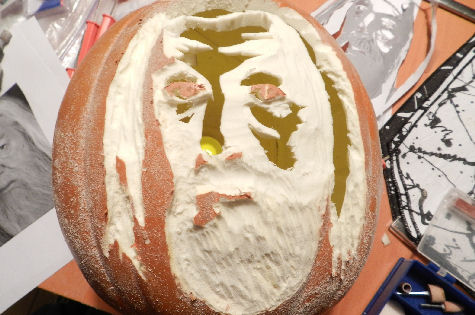 At last! The final carving: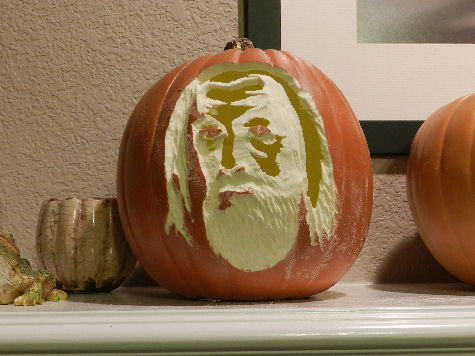 It doesn't look like much, does it? These carvings never do until properly illuminated. My only funny story with this project happened when Rachel walked into the room and saw the unlit pumpkin. You see, when she last left me, I was working on Ron not Dumbledore. So this thing looked really wrong to her.
So let's make it look right. Lights, please!
Here's a close up to show some of the detail: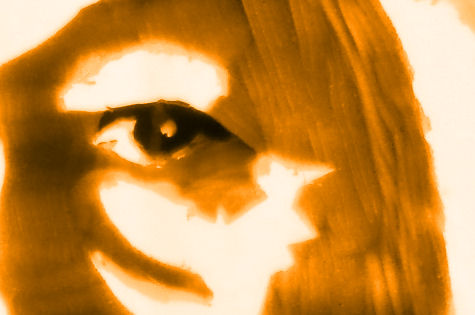 And lastly, three years' worth all in a row. I didn't have enough lighting (or room) to fit Snape into the picture. Poor Severus.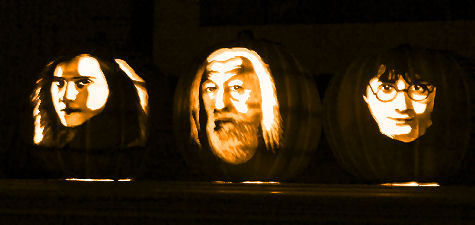 Not bad for someone half dead just six months ago. And on that note, stay tuned for my next post, entitled Now What? I've been working on it for three months now. Unfortunately, I haven't actually written anything beyond just the title, but such is life. Let's just hope it doesn't take me another three months to finish.
In the meantime, enjoy your holiday and don't eat all the candy.
Ah, what the heck. You only live once. Go right ahead.