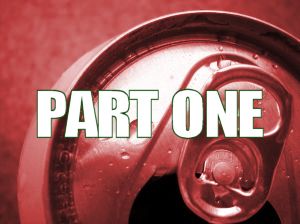 Welcome to my new mini-series, The Soda Chronicles. This is Part One, or Why I Love Me Some Soda Pop.
Ironically, I can't actually answer that question because the concepts of likes and dislikes lie beyond logical definition. In short, people like what they like and they don't like what they don't like. Take mushrooms, for example. I do not like them. I put one in my mouth once and it didn't go well. Had there been digital cameras and a vast interconnected network of computers at the time, my facial expression just might have become the world's first meme.
But back to that first taste: let's analyze what happened. Did I eat the mushroom and construct a two-column list of both its positive and negative qualities and assign weights to each attribute? ("Let's see . . . other people like them. Plus one. Feels like someone stuck a dirty big toe in my mouth. Minus two.")
Of course not. Nor did I do any such thing the first time someone shoved a birthday cake in my face. I instantaneously knew that this is what I wanted to happen at least once a year for the rest of my life.
So no, I can't truly answer the original question. But what I can do is describe the positive attributes of Soda Pop.
1. It's fizzy.
2. It's sweet.
3. It makes me feel like a room without a roof.
4. It calms me down.
5. It picks me up.
6. It goes with absolutely everything, including Kashi cereal.
Apparently, though, it has one serious drawback: something The Health Industry calls "hidden calories." I'm not sure why some calories are deemed "hidden" and others are not. On more than one occasion I've taken sample food items, laid them out on the counter, and smashed them to bits with a hammer. And I have yet to ever see even a single calorie. However a bunch of know-it-all scientists claim calories really do lurk in almost all the food we eat, so I'll take their word for it.
Much to my chagrin, a vast concentration of these calories are hidden in Soda Pop. In fact, a single twelve-ounce can of Coca-Cola contains nineteen pounds of sugar. If you were to drink three a day (one with your Kashi, one with french fries, and a third one with an additional application of french fries), you would gain five hundred pounds in the next six months. It's true. I did it in 1989.
Clearly that wasn't going to be an ideal long term regimen. But Soda Pop tasted so good! Could there be any way this boy might enjoy a cold soft drink without the ever-present threat of caloric death waiting at the bottom of each can?
Tune in next week for Part Two and find out.