Curious whether my new catpcha solution was now blocking legitimate humans from leaving comments, I turned it off, just as an experiment. Well, the actual number of human-provided comments did not go up at all. But the spam hose was back on:

Do note, this number represents just two weeks' worth. I'm really never, ever going to understand this phenomenon.
I am also never going to understand this whole weight loss thing either. I've being doing it for some twenty-three years now. I've been writing about it for at least six. I've been pondering its most deepest mysteries for four straight minutes now. And I'm at a loss.
I still believe The Switch is what controls it and that The Switch is patently NOT under our control. I also still believe people always do what they want. These things are easy to believe in because there's overwhelming evidence to support them while absolutely no counter-examples to refute them.
So with happy thoughts such as these out of the way, let's just jump to this week's graph: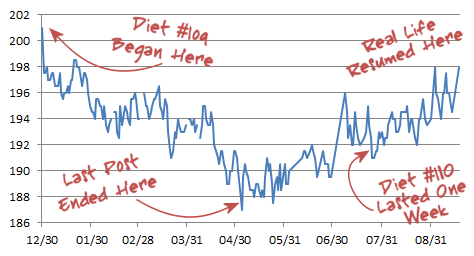 "Gained it all back" is a term often heard around here, in our common area of interest. It's the same sad story every time: that somehow after months and months and months of hard work, exercise, and skipping that seventeenth slice of pizza, we hit our goal and celebrate by undoing it.
Once the goal has been reached, we're allowed to reward ourselves with "just one small dessert today." The next day we're, "back on!" We rationalize our prize because "deserve it." We don't worry about it because, "I lost the weight once, I can do it again. No big deal."
What we fail to see and/or refuse to admit is that The Switch has gone off. We try to convince ourselves that we're still in control using various words, platitudes, and inspirational posts from other bloggers.
For me, as I saw the scale quickly approach that 200 line again, I panicked. I was NOT going to do that again. I finally got below that mark last year, not due to hard work, but by a near-death experience. Not a lot of people know this, but cancer isn't fun.
Worst. Diet. Ever.
For that reason, it would take a volume of apathy on my part large enough to fill the Grand Canyon for me to just "gain it all back" again this time.
So on Tuesday, September 17, 2013 (yes, we're finally almost all caught up with The Missing Year), starting at 198.0, I declared it to be Day One #111. As they always say, the eleventy-first time's a charm.
I would, at this point, normally tell you, "Tune in next week for the exciting conclusion," but let's face it. We know it'll be three months before I remember I still have a blog and post the next episode. Let's just hope it's a good one.