Today is my one hundred and eleventh birthday: I am eleventy-one today! […] I don't know half of you half as well as I should like; and I like less than half of you half as well as you deserve.
It was 1992 when I first read Bilbo's long-expected birthday speech and thought, "This is brilliant. Not to mention, eleventy-one should be a real number." Full of such wonderful character, it deserves to be used more. Let's give it a shot.
It was September 17, 2013 when I began Diet Number Eleventy-One. Yes, that's one hundred and eleven times where I said, "This is it! This is Day One! I'm positive this time it'll work!"
Now, has it actually been eleventy-one times? To be honest, I don't know.
I didn't begin the current numbering scheme until July 14, 2008. At that time, I took the spreadsheet where I store all my numbers (going back to 1990) and counted up the number of times I used the phrase "Day One." Oddly enough, it didn't make its first appearance until January 1, 1997. So right off the bat, I know that the first recorded Day One definitely was not the first Day One. But to balance it out, there were times where I also used the phrase in the spreadsheet and it wasn't an actual Day One. So in 2008, I did a careful-enough historical analysis, made a reasonable tally, and declared that June 30, 2008 was Day One #86. The blog post looked like this: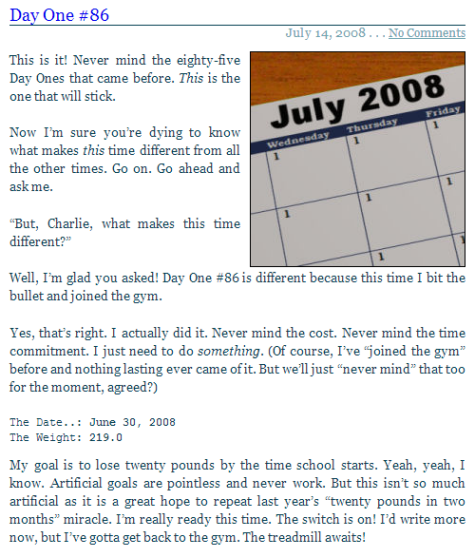 Actually, I lied. That's what half the blog post looked like. The other half was me falling off the wagon just a few days later and declaring July 7, 2008 to be Day One #87. That lasted until July 28, 2008, which I declared Day One #88.
From that point on, the numbers were real. It went something like this:
| | |
| --- | --- |
| 9/13/2009 | Day One #89 |
| 9/14/2009 | Just kidding, today is Day One #89 |
| 9/28/2009 | Day One #90 |
| 10/5/2009 | Day One #91 |
| 10/26/2009 | Day One #92 |
| 11/8/2009 | Day One #93 |
| 11/9/2009 | Day One #94 |
| 12/1/2009 | Day One #95 |
| 1/4/2010 | Day One #96: Happy New Year! |
What's the definition of insanity again? Doing the same thing over and over and expecting different results?
This just kept going and going until . . . well, until September 2013 when Day One Eleventy-One rolled around. September, of course, is one of the worst times to try and get it together. There are several big food-related holidays between October and December each year. Yes, you know what I'm talking about: International Men's Day, Geography Awareness Week, and the big one: Ninja Day (December 5).
February 3, 2014 is the 140th day of this last diet run. I had planned on telling you all about it today, however, this blog post ran a bit long, so the details will have to wait until next time. But just to lighten the suspense, here's a quick summary. Half the diet went went only half as well as I should have liked, and less than half the diet went half as well as it deserved.