When we last left off, our intrepid hero Charlie and his faithful sidekick Sad Puppy had just wrapped up a troublesome year with the bathroom scale on the rise. Our dastardly villain, the evil Professor Seefood, had made an unexpected comeback after the triumphant defeat of Bob Hoskins Linoleum.
Our hero swore that, after the longest and most painful "diet" ever, he would never, EVER let Professor Seefood get the best of him again. There was simply no way that he would bury this (hopefully) once-in-a-lifetime opportunity under forty pounds of Chex Mix in the twelfth month.
Yet there he was, at the end of the year, tired, miserable, and back above the 0.1 ton mark.
But just then, in his darkest hour, the cavalry arrived. And they brought along the most important weapon in all of dieting: The Switch. And it was in the "on" position. Because when The Switch is on, those extra pounds don't stand a chance. Diet #109 had begun.
Charlie applied the Greatest Dieting Secret Ever. It's what's commonly known in the medical community as Stop Eating Everything You See. And then, just like 108 times before, this diet worked: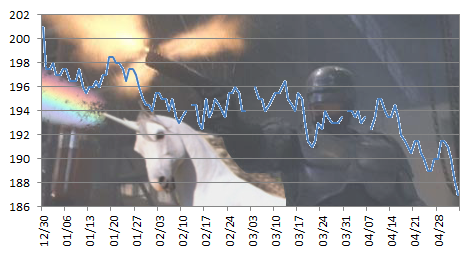 Not without its ups and downs, of course. But fortunately the downs outweighed the ups and our hero was right back on track.
Or was he?
Tune in again next week for another action-packed episode of Little Orphan Annie. Er, . . . I mean, Back to the Fridge.