In my head I'm thinking, "It's been two weeks since my last blog post. Probably time to write another one!" However, it's not until after I spend two hours trying to remember my blog's URL that I discover it's actually been eight weeks since the last post.
But just because I couldn't find my blog didn't mean the spammers couldn't. Here is the count for the last fortnight alone:

That's right, more than three thousand spam comments in just two weeks. And I only bring up the spam thing (again) for two reasons:
Reason One: If you left a comment and don't see it here, it likely got caught and deleted.
Reason Two: I've added a new captcha mechanism below. You'll have to take a quick math test before leaving your next comment.
That Again
So exactly which that am I talking about again? I'll give you two hints:
Hint Number One: It happens once a year.
Hint Number Two: It rhymes with The Foo Fonths between Falloween and Few Fears Fay. No diet has ever survived the holiday assault. Not even the cancer diet.
With that said, let's just get the graph out of the way: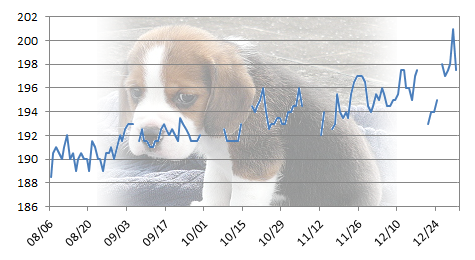 Three Signs You're Doing It Wrong
The First Sign: The graph starts at the lower left and moves towards the upper right. This is what you want your investment portfolio to look like. Not your weight chart.
The Second Sign: There are holes in the graph. If (like me) you're the type of person who weighs in every day no matter what, and then you start skipping days, that's bad.
The Third Sign: You leave Onederland. After the success of the cancer diet, I swore I'd never ever ever ever let this happen again. And it happened again anyway.
The Next Steps
At this point, I made two decisions.
Decision One: It was time for Day One #109.
Decision Two: It was time to start weighing myself in stone. I like the idea of weighing "14" instead of "196".
So how did Day One #109 go? Well, come back in two eight weeks and find out.