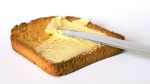 Way back in the 1990s, a couple of my coworkers belonged to an organization called Toastmasters. I had no idea what it was, but I did know one thing: I sure liked toast. And if there was an entire organization out there devoted to becoming a master of toast, then that was the club for me.
One day I asked if I could join them and they were more than happy to bring along a fellow enthusiast. I prepared myself. I sorted through my bread collection, picked out two or three top choices, grabbed some of my favorite spreads. I was ready.
Supplies in hand, I climbed into the backseat of their car, all the while dreaming of the toasting possibilities that only a toast master could ever hope to realize. Imagine my initial confusion when I arrived and there wasn't a single toaster in sight. Imagine my subsequent shock when they made me get up and talk in front of people.
Toastmasters don't make toast. Toastmasters lie.
Okay, so that didn't actually happen. But the part where I said I sure like toast wasn't fiction. No, not at all. In fact, I'll go out on a limb right now and say that toast might just be my favorite food.
Let's think about this bit of culinary perfection. Start with one of life's staples: bread. (For those of you with gluten intolerance, I feel kind of bad talking about this. Sure, you have your special bread made out of rice, or potatoes, or coleslaw or whatever. But it's just not quite the same.) Next, take the bread and slice it. Now, the most important step: take the slices and put them in a special machine.
If you decide to leave the room and work on something else at this point, this part takes about ten seconds. If instead you decide to stare at the special machine while it converts your bread into toast, then this part takes about thirty minutes.
Either way, you can't complain. This special machine truly is one of those objects we take for granted. I'm generally a smart person, but I couldn't tell you the first thing about how plugging a box into a wall makes its insides glow bright orange. I'm pretty sure magic is involved in the process.
After that ten-second to thirty-minute period has passed, the special machine performs another bit of magic. It defies gravity, thrusting your toast skyward amidst wisps of steam. Upon the toast's return to earth, you move on to the most important step: the slathering. Because, let's be honest here, the bread is nothing more than a vehicle to transfer your spread-of-choice to your hungry maw. And you have to do this fast, because there's nothing worse than trying to slather room-temperature toast.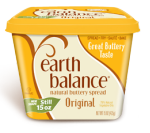 Me? I have two main spreads-of-choice: peanut butter or what you see here on the right: Earth Balance Original Buttery-like Non-Butter Butter Spread. The ingredients are oil, oil, oil, oil and oil, so I don't see how you can go wrong with this. It's all I can do to not take a spoon to the tub and forget the crisped bread altogether.
Once you get the spread-of-choice applied, and it starts to meld with the bread, it's time for the most important step: eating it. You have less than half a minute to consume this vastly underrated treat. Heat is your friend, and if you lose that, you might as well just start over.
Ahhh . . . wasn't that good? Of course it was.
Once you've finished consuming your toast, it's time for the most important step: making more. I recommend repeating this procedure until your loaf of bread has been depleted. You won't be sorry.
Anyone out there agree with me on this? Let me know. We can start our own International Organization.