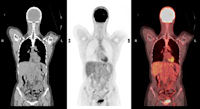 I sat quietly in the doctor's office on the morning of July 5, 2012, just as I've done every Thursday for the last three months. But on this particular Thursday I would learn the results of my recent PET/CT scans. I would at last find out if this mess of chemicals and string of bad hair days was actually doing anything toward curing my ailments.
I'd actually already seen the doctor in passing on the way in. He gave me a hello-how-are-you and made no indication either way of what news might be in store for me later. I waited alone in the examination room after providing the nurse with a few vital statistics, such as blood pressure, pulse, and (for some reason) my astrological sign. The doctor came in and after a few minutes of the usual pleasantries and routine questions he finally announced, "Well, I have some good news." I was wondering when we'd get to that, I thought to myself. The longer it took to get to the news, I figured, the less good the news would be.
But it was good. To be exact:
The previously characterized heterogeneity of the liver has resolved.
And:
The previously characterized hyopdense lesions in the spleen are markedly diminished in size and would be difficult to characterize on today's examination prospectively.
And the big one:
The previously characterized retroperitoneal lympha- denopathy has markedly diminished in size and is not metabolically active.
Summarized: Marked positive therapeutic response without evidence for metabolically active disease. Continued surveillance is advised.
I managed to produce a smile and utter something like, "Wow, that's great news!" Because, after all, these are the very words that I'm pretty sure every cancer patient is (if you'll excuse the term) dying to hear. But to be perfectly honest, my brain was miles away, barely focused at all on this long-awaited positive pronouncement.
Just one week prior, we lost my uncle Dave. So I was thinking about my aunt Martha, my mom, sister, cousins, and other family members gathering together in Richmond, Virginia. It was a trip I wish I could have made. But today wasn't just Results Day. It was also Chemo Round Number Five, and although now officially in "complete remission", this hammer still has a couple whacks to go.
Even closer to home, my wife Laura was, at this same point in time, sitting in the Dallas / Ft. Worth airport on her way to see her mother. Her sister called the previous afternoon with the news that she was declining rapidly. Laura booked the first flight out Thursday, at five forty-five in the morning. About two hours after my remission news, sitting mid-chemo drip, Laura called to say she arrived too late. Her mother had passed less than an hour before her plane arrived.
This now meant a trip to Des Moines for the rest of us. As I headed into the Usual Bad Post-Chemo Week I was now trying to figure out how to get the remaining three of us up there. I spent a few days on travel arrangements, rescheduling appointments, packing and other assorted preparations. We decided to rent a larger car and drive up, in spite of the distance. (The bereavement fare would have knocked a whopping $23 off the total last-minute ticket price.)
Northbound
I woke up a little after six in the morning on Tuesday the 10th. Sarah and I picked up the rental unit and brought it home. Rachel had made sandwiches for the road while we were gone. We packed everything up then took the dog to the kennel. By ten o'clock (three hours after first setting out that morning) we were just leaving Austin. Fifteen hours later we pulled into our destination: Laura's sister Karin's house.
The chemo, stress, and travel caught up to me immediately the next morning. I basically spent the next three days flat on my back. By Friday evening I felt okay enough to venture out. Specifically, to pick up my mom at the bus station. She made the seven hour trip from Chicago to Des Moines to be with us Saturday for the funeral.
I also managed to help produce the following song for the event. It was one of Laura's mom's favorite hymns, so Laura really wanted it to be part of the service. I took the song, removed nearly all the vocals, then had Sarah and Rachel sing over the resulting instrumental. Feel free to listen along after the blog post:
I saw lots and lots of people at the service, most of whom I had not seen in a long time. This is, of course, exactly where you want to put a person without a fully functional immune system. I kept my hands washed all day and tried my best to avoid kissing people for longer than two minutes, especially strangers. I think I did okay.
Eastbound
When all was done, we headed back to Karin's, packed up the van once again, and headed to Chicago. Click this picture for the full Chicago trip report:
Southbound
It was my shortest trip home ever. A mere hours after getting out of bed it was time to pack up the van again and head back to Austin. Although about five hours longer than the trip up, at least I had one more driver to help out on the way back. Plus, we split it into two days, spending the night at the crappiest motel I've ever personally stayed at in my life. I'm not much of a travel expert, but I should have realized that when I saw the roaches packing their bags and heading to a different establishment, they were trying to tell me something. But by that point in time I was too tired, stressed, sick, and miserable to care. (And it still took me two hours to fall asleep.)
By Monday evening we were at last home and boy did it feel good. We ordered in some food, cranked up the air conditioning, and relaxed for an entire hour before it was time to pack up Rachel for another trip leaving the very next morning. When it rains, it pours, as they say, and the past couple weeks have been no exception.
So right now, at this very point in time, I'm simply just looking forward to July 26: my sixth and (for now) final chemo session. I'm not looking forward to the week after that. But then I am again looking forward to August 6, which, if the pattern holds, I should feel back to normal again.
That's when I'll find myself saying, "Hey, I almost forgot. I'm in remission. Isn't that nice!"