I'm not sure if you've ever noticed this before, but my Back to the Fridge blog logo kind of looks a little like the Back to the Future film series logo. It's hard to tell at first, but once you see it, you really can't un-see it.
Next Wednesday (October 21, 2015) marks a very important day in fictional history. It's the day that Marty, Doc, and Jennifer arrive in their future, to stop their kids from getting into trouble. It went down something like this: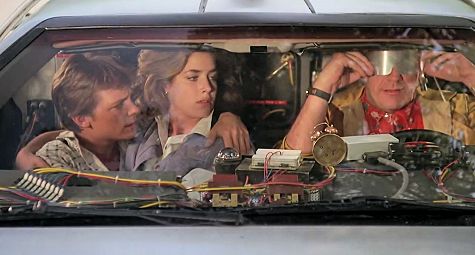 Not that you need me to tell you this little factoid. The interwebs have been positively abuzz with this information all month. Heck, even the Chicago Cubs got in on the action, trying to make at least one of Robert Zemeckis and Bob Gale's predictions come true.
This is also the time we get the rare opportunity to see how well the professionals did with their makeup designed to age characters thirty years. And that just so happens to be what the rest of this post is about. In each photo we have: 1) The actor in 1985 with no aging makeup, 2) the actor in 1985 with a thirty-year aging makeup, 3) the actor thirty years later.
First up, Marty McFly. Our seventeen-year-old hero was played by twenty-four-year-old actor Alex P. Keaton. In Marty's case, the age makeup didn't do him any favors. Apart from the cool double tie, this is certainly one washed up 47-year-old. Of course, that was kind of the point, so in that respect they nailed it. Real life Old Marty looks much better, in my opinion.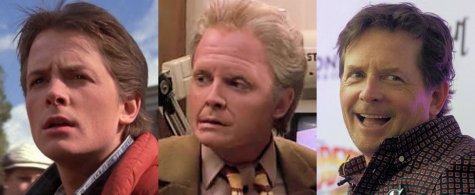 Next up, our hero's mentor, Dr. Emmet Brown, played by long-time character actor, the Reverend Jim Ignatowski. The best part about Doc is that no matter which time period he was in, he still looked the same. About the only other person that can jump between thirty-year periods like that without aging at all is Patrick Stewart.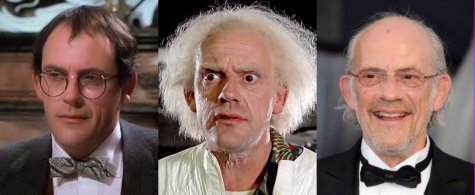 Ah, at last, the story's antagonist, Biff Tannen, played by then-newcomer William H. Macy. Biff was the quintessential bully, who ultimately grew out of his irascible phase and ending up writing a pretty good song.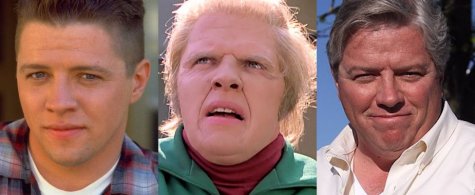 Now onto Marty's mother and erstwhile girlfriend, Lorraine Baines McFly, played by the wonderfully talented actress, Elyse Keaton. We hate her, because she's also one of those rare people who isn't getting older at all. It's not fair.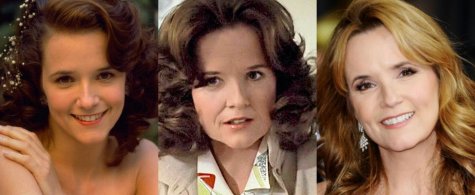 And lastly we have Marty's dad-dad-daddy-o, George McFly, played by independent film actor Rubin Farr. This was easily is most memorable and popular role until . . . well, let's face it. This is his most memorable and popular role. And with good reason: he played it to perfection.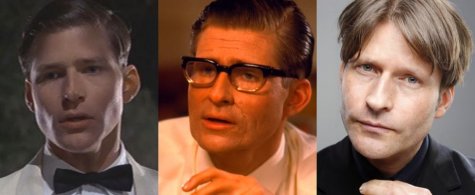 So there you have it. Be sure to check back here in 2045 when we review their 60-year age makeup comparisons.