In February, The Great Neverending Weight Loss Story got two much-needed boosts. First, I finally admitted that Diet #113 was dead and so started a new one. Second, I was presented with a Challenge.
A Challenge?
Enter the February Wellness Challenge, sponsored by my employer. The idea behind it was: hook up with three co-workers, pick a target personal goal, and then try to beat out some two thousand competing groups by eating more vegetables than they do.
The full list of things that would earn you points:
Eating the aforementioned vegetables.
Also eating fruit.
Weighing in at least once a week.
Logging food every day.
Exercise.
Ah, Exercise. We meet again, my old nemesis.
I'm fortunate that the day job location has an on-site gym that costs next to nothing to join. However, even after being employed for nearly a year, I still hadn't found a good enough reason to join. But we'll talk more about that next week.
But when the February Wellness Challenge fell in my lap, that finally put me over the edge: I broke down and signed up for gym access. This move definitely helped me with my exercise requirement on workdays. However, my office is a thirty-plus minute drive away, and I'd really rather not drive for over an hour just to walk on a treadmill for half that.
Mother Nature to the Rescue
There are more than 23,000 species of plants in North America. Almost eight percent of them grow and thrive in my lawn. Every February, when the northern half of the northern hemisphere is covered in a three-foot blanket of snow, my backyard is basking in a warm, moist proto-Spring.
At some point during the previous summer, the seeds and spores of some 1,700 plant species find my yard and hunker down. It's not hard for them to shelter undetected during the fall and winter, what with the constant distractions of pumpkin pie and Chex Mix.
But by January, when the temperature has already been in the fifties and sixties for a few weeks (and sometimes the eighties on a good year), these dormant plants take root and take over. Our lawn, which has looked like this since August:
Suddenly looks like this: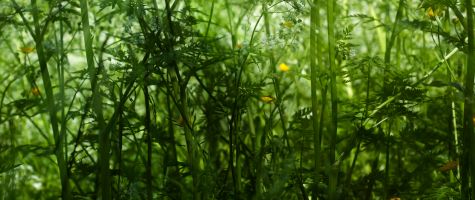 Due to my fitness challenge requirements, I decided to start the weed-pulling early this year. This way I'd get a jump on the intruding vegetation and burn off calories in the process. However, that was upwards of six weeks ago and it's still not finished. Believe me, it takes a long time to pull up:
Dandelions.
Clover.
Broadleaf panicum.
Goosegrass.
Stars of Bethlehem (look it up).
Purslane.
Onions.
Potatoes.
Peanuts.
And I'm pretty sure some Orontium mackii, a plant thought to have gone extinct in the Late Cretaceous.
On Saturday, March 21, Laura and I launched one final attack in the hopes of taking care of the last of the dandelion hoard (plus as much of the Medicago lupulina L) as possible. It was actually the perfect day for combat: not hot, not cold, with overcast skies and a light rain. The rain refreshed us, though it made for a muddy campaign.
After four straight hours, I could barely lift my arm for another strike. But I'm proud to report that we emerged victorious. Oh, to be sure, there are a few stragglers still on the battlefield. But they shall be dispatched in due time.
The important part is the fear we struck into the hearts of the remaining weeds. The sight of The Weed King Undefeated is not one soon forgotten in weedlore.