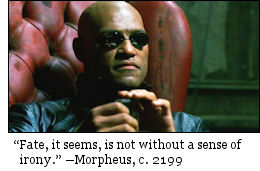 I've spent more than two decades devising a wide array of methods in an (apparently) futile attempt to solve the complex biological issue known, in medical terms, as "pigging out." While many factors contribute to the condition of being above one's ideal weight, I've found that, for me personally, caloric intake is right at the top.
Oh sure, once every few years or so I try exercising. But considering that it takes seventeen hours at the gym to work off one inadvertently-consumed quart of ice cream, for the most part, simply avoiding the calories in the first place is a hundred times easier.
So it's ironic, then, that just when my medical team tells me the thing I've been waiting my entire life to hear ("Stop losing weight. You need to eat more!") I find it difficult to do so. "What's the problem, stupid?" you ask. "Why, when you've finally been prescribed the see-food diet, do you have trouble complying?"
Well I'm glad you asked.
There are three primary reasons, which I like to call "the Three Ts": tolerance, taste, aversion. (The astute reader will notice that "aversion" does not start with, nor even contain, the letter T. In response to that I offer another T: "too bad." I like the sound of "the Three Ts".)
Tolerance is all about physically being able to eat something. Taste is where I can tolerate it, but I just don't like the way it sits on the tongue. Aversion is where some prior negative experience psychologically eliminates the food from all subsequent attempts. You know, like okra.
So let's talk about my current relationship with a few select food items. These were a few of my favorite things: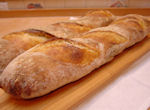 Back during my low-carb days, I doubt I missed anything more than bread. While I did end up losing sixty pounds, it wasn't without a wistful glance back at warm loaves, buttery rolls, and fresh bagels. So now it's almost painful to have a kitchen full of various breads and me with the inability to eat it. I can't even describe it: something about the taste, texture, consistency . . . I just don't like it, is what it comes down to. I would like nothing more than to pop a couple slices into the toaster and then slather them with peanut butter (er, after the bread comes out of the toaster, that is), but alas, it's not to be. The wistful backwards glances continue.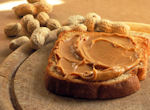 Speaking of calories and peanut butter, I could easily reach my two thousand per day quota with nothing more than a large tub of the "crunchy" kind, a spoon, and five spare minutes. I've been known to consume cafeteria-sized containers of peanut butter in mere hours. It's definitely a weakness and the reason that giving up peanut butter is typically one of the first things I do when I try to dial things back a bit. Until now. While I don't find it quite as distasteful as bread, it just has a very stale and unappetizing quality to it now. So sad.
That's fried tofu and it actually doesn't fall into one of The Three Ts. The see-food diet, in truth, doesn't include soy products. I can't pretend to understand the reasons why; and from what little I've read, there still seems to be a fair bit of controversy over the connection between soy products and cancer, but for now I'll stick with the directive. And what rotten timing too, because in the last year or two I've grown quite fond of it being the main protein in various dishes. When they ask, "Chicken or beef?" I say, "Fried tofu!" When they ask, "Noodles or rice?" I say, "More fried tofu!"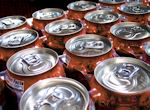 The ultimate irony: in the two months leading up to my diagnosis, I'd voluntarily given up diet soda (actually, artificial sweeteners, but by extension: diet soft drinks) and in doing so created a craving for soda pop that I'd never before known. Today, soft drinks burn my mouth like grain alcohol, so they've moved into the 'aversion' category. I hardly even think about them any more. Which, I should be happy about, I suppose, but every time I go out and I'm asked, "What would you like to drink?" I so desperately want a Diet Coke. With lime. Just for the taste of it. Instead, I end up ordering a tall glass of fried tofu.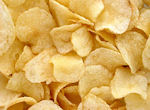 If a year ago someone told me, "A year from now you will open your cupboard, gaze upon bags and bags of delicious chips, and walk away in utter disgust," I would have said, "I'm getting cancer next year?!" All of my favorites: kettle cooked, salt & pepper, or just plain 'ol Ruffles: they're all on the list. This particular aversion I believe is grounded in the potato itself, for I am also unable to enjoy mashed potatoes and french fries properly. (I must say, I'm very much looking forward to properly enjoying a fresh, mouth-burning, pile of fries again someday soon.)
This, of course, just scratches the surface. But it easily explains the thirty-five pound loss in record-breaking time. Unfortunately this isn't the time to "get in shape." It's the time to "get well." Fortunately, ice cream still tastes good. (Fried tofu flavored, of course.)