So for the few of you who've been visiting me here at the Fridge each week lately, you know that I've basically been flatlined since Christmas. I did pretty well in 2013, staying not only in Onederland, but spending a good portion of the year below the Magical 190 mark (Anna, that's thirteen and a half stone for you.)
But at last, I can finally report some positive results. Trying to get out of my slump, I finally bought a bottle of Hydroxycut Sprinkles. We went out for pizza on Saturday night, where I got a large, double cheese, double pepperoni deep dish pizza, with stuffed crust. I opened my bottle of Sprinkles, dumped about half a cup on there, and ate. The next morning I was down two pounds.
On Sunday, we went to the local Chinese Buffet. After my eighth trip back for spicy Cashew chicken, I'd used up about half the bottle of sprinkles. The next morning I weighed in and I was down three pounds.
Last night I ate an entire five pound bag of popcorn: you know, those big, three-foot-tall clear bags they sell? I dumped the rest of the Sprinkles on it and weighed in this morning. Down again.
Check out today's graph!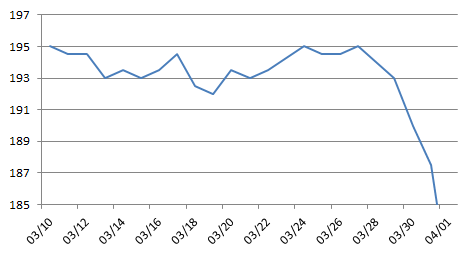 I can't believe I went so long flat-lined. I can't believe I waited this long to try this miracle product. I really think you should try this and see for yourselves. Just make sure you read the fine print on the back of the bottle: Only Effective on April 1.