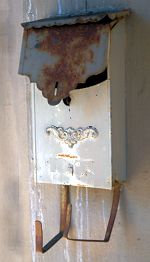 About a year ago, I finally decided to acknowledge my burgeoning fan base by answering some of their mail.
Thanks to the baffling magic of Google Analytics, I have learned that this highly vocal group, clearly numbering in the tens of thousands, easily represents more than ninety-nine percent of this blog's devotees. From them, I have learned so much more about the world: everything from how to flatten my belly with 1 weird old tip to the sixteen former Disney stars who eventually went on to murder former Nickelodeon stars (#7 will shock you).
So without further ado, let's look at what a few of my adoring fans have written me, in the form of courteous, well-thought-out comments that for some inexplicable reason were stopped by my spam filters.
Do you have a spam issue on this website; I also am a blogger, and I was wanting to know your situation.
Funny you should ask. Please, leave me your blog address and I will most definitely tell you my situation.
Attractive section of content. I just stumbled upon your weblog and in accession capital to assert that I acquire in fact enjoyed account your blog posts. Any way I will be subscribing to your augment and even I achievement you access consistently quickly.
Thank you! My consistent augment always achieves capital. To enjoy blog posts the accession must be the attractive. My weblog the subscription for the stumbled. Luck.
Wow! This blog looks just like my old one! It's on a entirely different topic but it has pretty much the same page layout and design. Great choice of colors!
Dear friend. I would love to see your old blog that looks just like mine: the blog which I custom designed myself and hand-crafted from scratch, for the dual purpose of expressing my personality and creating a web site unlike any other on the planet. Good thing we picked entirely different topics otherwise this could've been embarrassing.
WOW just what I was searching for. Came here by searching for %meta_keyword%
Well, I'm not surprised your search brought you to my blog. All my blog keywords are indeed %meta_keyword%.
Great article! This is the kind of info that are supposed to be shared around tthe net. Shame on Google for now not positioning this submit upper! Come on over and visit my web sitfe . Thanks =)
Shame on Google! Shame! SHAME!!! Tthe net deserves my submit to be positioned upper!
Thank you for the good writeup. It in fact was a amusement account it. Look advanced to more added agreeable from you! By the way, how can we communicate?|
Sadly, I do not believe there's any way you and I could communicate.
I believe in loving everyone with their doing the same. Yep, you heard that right, they love themselves some porn. I really threw beers and booted the wall structure and swore seeing that loud after i could free of Beth experiencing me.
People have asked me over the years, "Charlie, why did you ever start this blog?" I will definitively answer that question now. It wasn't for the bags of money, as I've declared in the past. It wasn't to express myself as a writer. It wasn't even to help people with their own food and weight issues. No. I started this blog back in 2008 for one reason. It's taken me seven years to realize my goal, but at last it has happened. I started this blog to get that comment.
Thanks for coming out tonight, everyone. Drive safe!