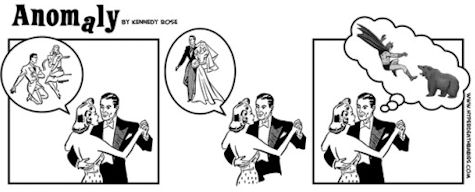 So last week I happened to mention that my super-duper-high-speed weight loss phase of the diet was over and presented "six days in a row at basically the same weight" as evidence. I thought it was a very straightforward statement, but the ladies did not quite take it as I intended. Paraphrasing several replies: "You can't quit now Charlie!" "Hang in there!" "Cheer up or we will hunt you down and force feed you rice cakes!"
It reminded me of a blog post I came across a couple weeks ago. It was an essay of sorts on fiction writing, specifically, "How to write male characters." (Primarily, of course, for female writers.) Here's the brilliant excerpt:
I had always assumed that women understood men. We are, after all, pretty simple. Generally, we say what we mean. Guys don't generally try to lay down a trail of hints that have to be figured out.

Apparently, a lot of women don't know that. Apparently, when a guy says, "Your hair looks nice today," a lot of women assume there is some hidden meaning, such as:

Your hair usually looks terrible. It's about time you did something right with it.
Your makeup is a mess, but at least your hair is OK.
You're fat. The hair compensates a little, but you're still fat.
Let's hop in bed, you nymph, you.

The reality is that when a guy says, "Your hair looks nice today," the secret encoded message which he hopes you pick up is, "Your hair looks nice today." In the vast majority of cases, that's all he means. No more. No less. There is no implication that your hair looked bad yesterday or that your makeup suffers by comparison or that you have a weight problem or that it's time for a roll in the hay.

Furthermore, the guy is not fishing for some return compliment. It's quite plausible that the guy in question doesn't even view his comment as an actual compliment. Likely as not, this guy is merely making an observation akin to "Nice weather we're having today," or "The Dow is up ten points today," or "The Padres are making a nice run at the division championship this year."

So ladies, when a guy says, "Your hair looks nice today," the correct response is, "Thank you! That's so sweet of you to say so."

Some examples of wrong responses are:

"What was wrong with it yesterday?"
"Don't you like my mascara?"
"I'm trying to lose ten pounds, so cut me some slack, all right?"
"Sorry, but I'm not that easy, you dirty-minded lecher.
You can click here for the original article. And I'll try to be more careful next time. 🙂
p.s. Happy New Month! Can you believe it's September already? Or September 2010 already?
p.p.s. Check out my new Facebook "Like" feature below. Go ahead and click it. Lots. Then I'll be famous. I promise I won't forget all the little people I stepped on to get to the top.