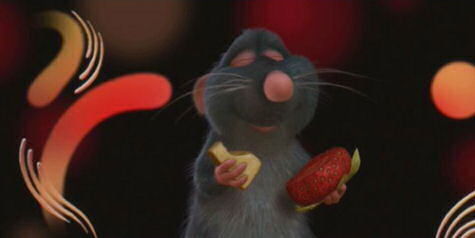 In the movie Ratatouille, Remy, shown here, describes the flavor of a strawberry in vibrant terms. Similarly, he vividly illustrates the tastes found in the cheese he's holding. But then when he puts them together! Oh, new gastronomic vistas are opened!
Two great tastes that taste great together isn't just a marketing tagline for Reese's Peanut Butter cups. It's the very foundation of the culinary arts as we know them. Thousands of years ago, when Thag first dragged his mammoth meat through a rosemary bush, wheels were set in motion that ultimately created perhaps the greatest taste combination ever.
No, not the strawberries and the cheese.
No, not the peanut butter and the chocolate.
No, not even the pepperoni and the pizza.
I'm talking about … Baconnaise. "I would eat that with a spoon," claims Steven in the little Flash animation on their home page. "How did I ever eat burgers without this?" Jessica sagely asks.
Now I must go on record saying that I'm reviewing a product I've never tried. But, come on! Do I actually have to try Baconnaise to know if I'm going to like it or not? That's like someone telling you, "I'm about to give you a big pile of money, but I'm not sure if you're going to like it or not."
There's really no doubt about this. Besides, I believe in researchers who describe their R&D efforts like this:
It was at that point that we began a very unhealthy morning routine: eat a slice of bacon, try a version of Baconnaise, eat a slice of bacon. Compare. Improve. Repeat. Over the 6 months it took us to make Baconnaise, we estimate that we probably ate 20 pounds of bacon, consumed 5 large jars of mayonnaise and took 2 years off of our lives – looking for that exact and delicious flavor that we would be proud to call Baconnaise.
And even though I don't know her, I believe in bloggers like Emily who say, "This makes me want to cry sweet bacony tears of joy."
So I must try this product … and soon. Who knows, it may actually have the potential to surpass "Sour Cream and Onion" as my favorite flavor of toothpaste.