I was so busy with the site makeover last week, I really didn't talk too much about the topic at hand. If you remember from two weeks ago (and I hope you don't, because really, my babbling isn't worth you wasting precious neurons on) I had just broken the last barrier: 197.5.
That was a special milestone for me because after weeks of walking along the borders of Onederland, finally getting below this point felt like I was at last safe from Relapseville.
The subsequent week only continued the goodness. Check out the chart for that week. Except for that very last day (and the reason I'm glad I went to "weight averaging" when I did) this was awesome. 195.5 was a new low and I hit it two days in a row.
So imagine my shock on that last day when I was 198. Sort of ruins that perfect week, don't it? But that's okay, right? It's just one day, right? No need to panic, right? I was doing well, I'm sure I'll get right back on track, right?
Wrong.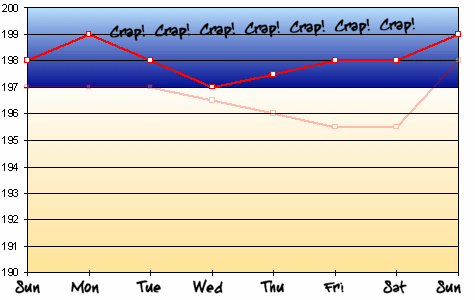 Week 38
Starting Weight
224.0
Current Weight
198.1
Change from Last Week
+1.5
Lost So Far
25.9
So what happened? Well, let's see… average daily caloric intake for the good week: 1800. Average daily caloric intake for the bad week: nearly 2200. Another weight loss mystery solved! Hopefully things will go better this week, but I don't know.
Two boxes of Golden Grahams just showed up out of nowhere.