A couple of days after I hit the 20 pound mark, I weighed in at 211 and wrote, "I can see this being the next plateau for a while…" I was right. But I wasn't right right away. On October 27, 2007 I hit 209.5 which was HUGE. Having a number start with "2" and "0" is something I hadn't seen in a long, long time. That's the last stop before returning to Onederland.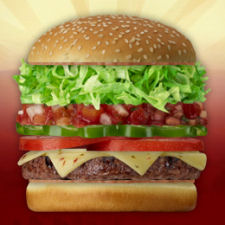 And then the very next day (or as I like to call it, "right on schedule") the Great Red Robin Incident of 2007 occurred. It's the most freakin' typical behavior of all: you work and work and work for two months, you drop twenty pounds, everything is going better than you ever imagined … then you reward yourself by aiming the gun directly at your foot and pulling the trigger.
But oh! what a gun. Take a look at this baby. Big, juicy, and heart-stoppingly delicious. We also ordered one of their onion ring towers (someone deserves an award for the idea of serving onion rings vertically) and, of course, the bottomless fries.
I popped right back up to 212 the next day. Lost two pounds again. Squeaked through Halloween. Had another Day One and today I'm back at 213. And the worst part? Thanksgiving is right around the corner.
Oh no.
I blew it. I had control of everything and I blew it. And this was going to be the year I didn't blow it. I flipped The Switch on last August! I avoided bad foods! I started walking again, almost every day. I lost twenty pounds. And I blew it.
I know, I know. There's still time. I'm only up a few pounds. I'm not out yet.
But I know myself too well to have any real hope. Might as well head back to the fridge and "celebrate" some more.