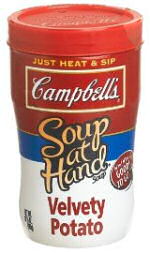 My job often entails non-standard hours and non-standard hours often entail food emergencies. While I bring regular food to eat every day, I also like to keep some non-perishables close by for those times when the choice is between death and vending machine meat sticks.
Once upon a time I brought in some Campbell's "Soup at Hand," as shown here. The flavor was "Velvety Potato," also as shown here. I'm a big fan of potato soup (I make a pretty mean one myself) and so I actually started looking forward to the day where some horrible emergency would come up at work and I'd be stuck there late. That would finally give me an excuse to eat the Velvety Potato Soup at Hand.
Days, weeks, months passed. The can of soup sat there, taunting me. But I wasn't going to give in. This soup was Important. This soup was for a Special Occasion. This soup had been placed High on a Pedestal.
More time passed. The soup continued to taunt. I finally gave in. I marched down to the kitchen, heated up the soup, and returned triumphantly to my desk.
Guess what?
Pedestal Soup sucks. The taste, texture, and consistency. I don't know if it was just one or maybe even all of those things, but something wasn't right. Then it hit me. It wasn't the soup itself. It was the unattainable status I'd assigned to the soup that ruined it. I learned an important lesson that day. And you can be sure that since then I've always tried to either: 1) eat the Pedestal Soup very soon after purchasing it; or 2) always have several options, so that none of them are treated like the last food on earth.
My advice to you is therefore twofold: 1) avoid making your own Pedestal Soup and 2) try the Velvety Potato Soup at Hand some day. I'm sure it's pretty darn good if you don't wait a year to eat it.