Over the course of this blog, I've talked about many weaknesses of mine: pizza, Doritos, Long John Silvers Chicken Planks. It's a pretty long list so I find it somewhat amazing that I've not yet talked about The Chex Mix at length. The Chex Mix, in many ways, puts all the rest of them to shame. Fortunately, I make sure The Chex Mix only happens once a year.
And that time is now.
Before continuing I want to make sure we're all on the same page. There are two basic kinds of Chex Mix. If you're not sure which kind is the right kind, print out this handy chart: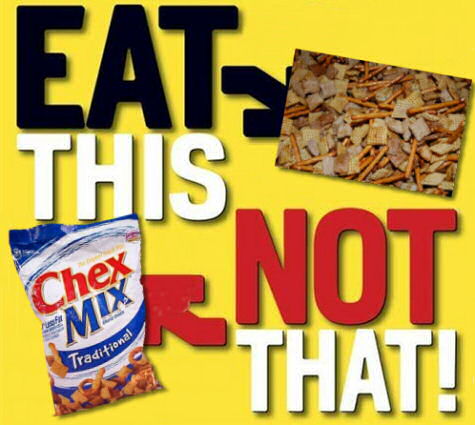 While it looks like a real time-saver, do not buy the pre-made kind. In what is perhaps the greatest irony in history, the company that invented Chex Mix has no idea how to prepare it in bulk. Sure, it looks like all the same basic ingredients. But these two things have as much in common as ketchup and mustard. Always make it from scratch. It's not that big a deal.
Each year certain key members of my family make Chex Mix and send it to all the other key members of the family. That is to say, if you make four big batches of Chex Mix to send out you will receive exactly four big batches in return. While this may sound redundant, it's actually a pretty good system, since everyone's recipe and method of preparation differ slightly. I began making this year's batches just last night.
A few of you have been closely tracking my weight loss progress since this summer. As you know, October 31 through January 2 is the Bad Time and I have a hard time coming through this period unscathed. As you also know, I've not only maintained this year but I have indeed lost a few more pounds. That's amazing, considering it's already December 16. That's not amazing, however, considering I had yet to meet The Chex Mix. Forget Halloween. Forget Thanksgiving. Making Chex Mix is the true test of one's inner strength.
I felt good when I started. I had a pretty good day eating-wise, and I was basically on track again after last Saturday's mess up. So how did I do? Well, I think second illustration might best explain it: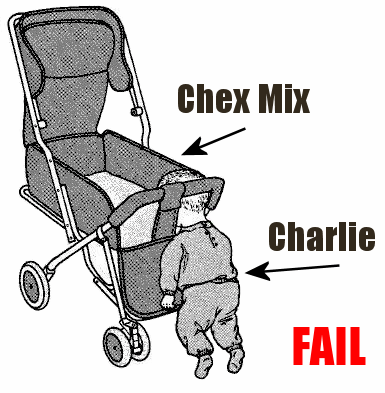 I shouldn't be surprised anymore, but yes, I ate a bit more than I'd planned to. Oh well. Christmas comes but once a year, right?
The thing is, I've always wondered what it is about this stuff that makes it so difficult to control. To help me figure it out, I finally took a good close look at the recipe. Here's what I found:
3 cups of Corn Chex
3 cups of Rice Chex
3 cups of Wheat Chex
2 tablespoons of crack cocaine
3 teaspoons of heroin
1-1/2 teaspoons of morphine
A few hallucinogenic shrooms
1 teaspoon season salt
'Nuff said…