If you missed Part 1 in this new series, click on the "Previous in Category" link below. There I began my tour of Austin burgers at Magnolia Cafe. A few days later, I traveled north to The Oasis. There I waited to be seated. I ordered a burger. I returned with the eye candy below.
(Warning: 4,660,225 pixels of glorious imagery below. As most of you know, I don't normally post this many pictures. But it's hard not to when you have this kind of scenery. Forgive the bandwidth hogging just this once.)
The Oasis is a very popular restaurant north-west of Austin, right smack dab on Lake Travis. In fact, calling it a "restaurant" is a bit of a disservice. It's nearly a small, self-contained resort. Situated about three hundred feet above the lake and with seating for over fifteen hundred people at a time, the self-proclaimed Sunset Capital of Texas attracts swarms of people from all over the inner solar system.
It also attracts lightning. After over two decades of operation, in the wee hours of June 1, 2005, the french-fry-encrusted outdoor decks were hit and the entire place went up in flames. But you can't keep a good landmark down. They rebuilt (with much more steel and stone and much less wood) and ten days ago the Hills family finally made their first trip back.
The main building is like a castle, complete with a courtyard filled with flowers, sculptures, and 372 people waiting to be seated.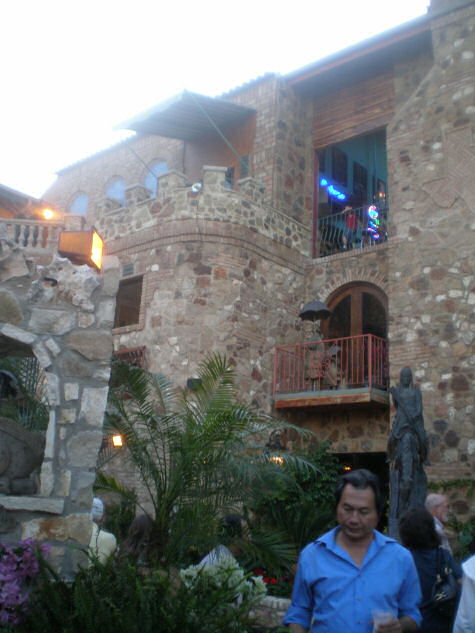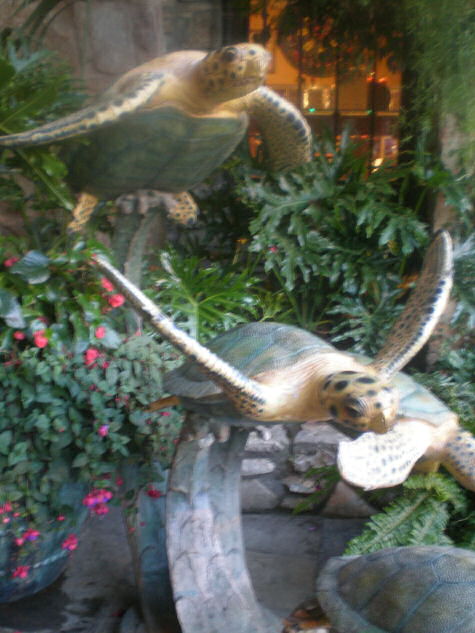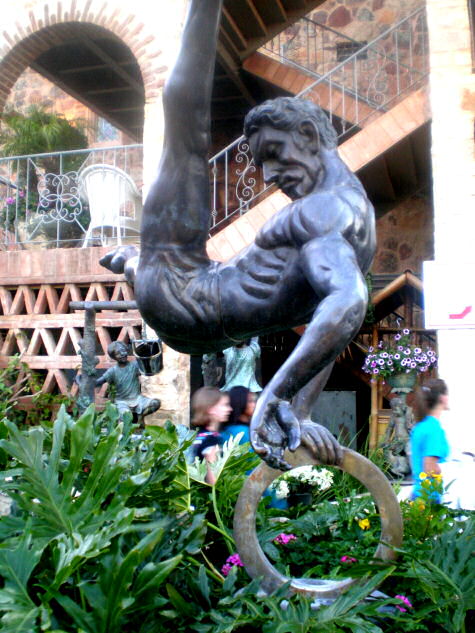 Once you complete your trek skyward, you're treated to some really nice views: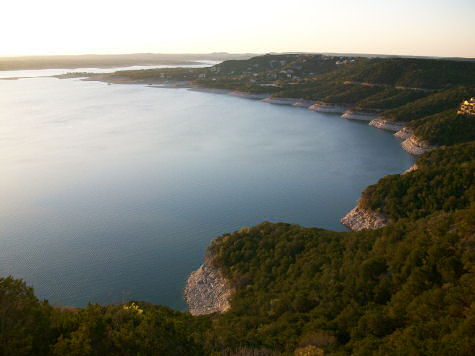 There are indoor dining rooms—how many, I have no idea—but if you want to sit in a dining room, then stay home. At The Oasis, go outside and sit on the decks: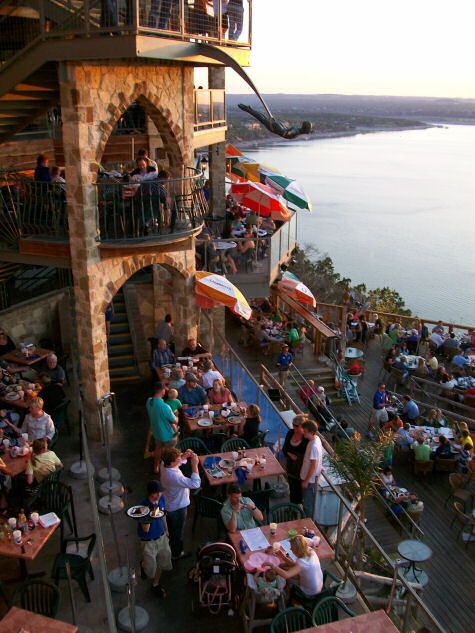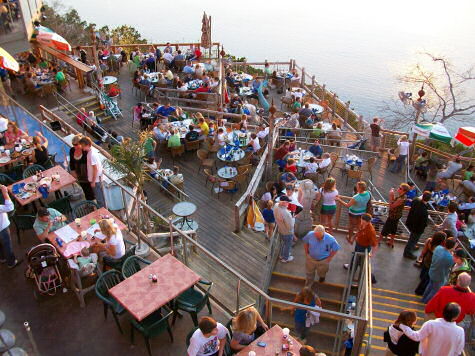 One of my favorite sculptures:
After waiting half the day for your table, the sun finally sets. It's the main event, and as soon as it disappears from view, they ring a bell and everyone applauds. Primarily because that's the signal that dinner is only three more hours away.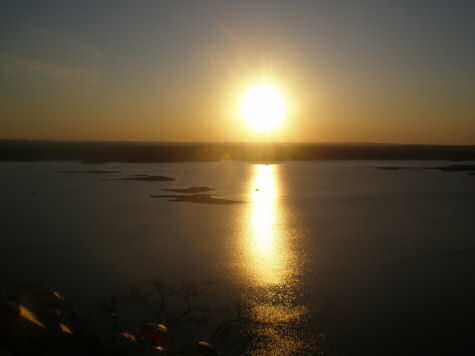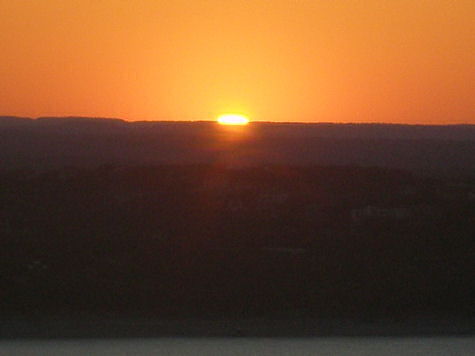 Bzzzzzzt. Three hours later, our little flashy thing flashed, signaling dinner time.
The view at night is just as nice as during the day:
I also signed my name on the wall:

Don't worry. Everybody does it: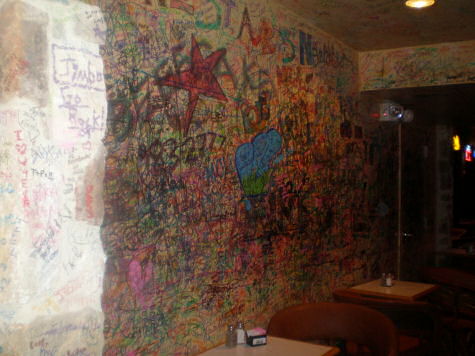 And there you have it! I hope you enjoyed your trip to one of Austin's biggest tourist destinations. Next week we'll … Hello? … Yes … What? …I didn't what? … Sorry, folks. I just got a phone call. Be with you in a minute. Slow down a sec. I didn't tell them what? … About the burger? … What burger? … Ohhhhhh! That's right. Thanks. *click*
I nearly forgot! This was supposed to be a burger review. Well, unlike the poor soul we read about last week who had a less-than-pleasant experience with an undercooked meal, my burger was pretty good. (I didn't let that bit of bad news deter me, mostly because I'd already made the trip and taken these photos by the time I'd read that. Still, based on these photos, isn't this the kind of view worth getting sick over?)
Anyway, here's the burger plate:
Austin Burger Tour #2
Location:
The Oasis
Burger:
Slightly above average
Fries:
Not burnt
View:
Incredible
Rating:
It was slightly above average. Definitely better than last week but I can't say it was the greatest burger I've ever eaten. Frankly, though, most people aren't here for the culinary fare, and it's quite possible every dish gets an extra half-star awarded to it simply for the sunset. If you're ever within driving distance, I definitely recommend it. I also recommend bringing a good book; or at the very least, a few sudoku puzzles.
Next stop? Mighty Fine!