Yeah, yeah, … I know I call this category "Pizza Night" but I thought I'd finally kick off an idea I've been kicking around in my head for many moons now.
About six years ago, a local Austin rag ran a cover story entitled, "Is This Austin's Best Burger?" The cover depicted Hill's Cafe's "Old Fashioned" burger stacked up against a field of thirty-two contenders. The spread showed all sorts of juicy, burger goodness, in full color, across several pages. It was at that point I made a very conscious decision. "I will seek out and try every one of these burgers. Oh, yes. I will."
Fast forward six years. I've now tried exactly none of them. I think it's the sheer anticipation of the burgers that makes me happy, more than the burgers themselves. Otherwise I would have sought out and tried every one of these burgers. Oh, yes. I would have.
But all that's about to change. In the last seven days I've had two different Austin burgers. I think the time is ripe. So let's begin with the first stop on my tour: Magnolia Cafe.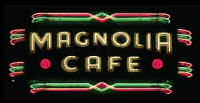 Magnolia is not listed in that "top thirty-two." To be fair, Magnolia isn't even a burger joint. It's primarily known for its breakfasts, poor parking, and four hour waits on Sunday mornings. In fact, before last week, breakfast is the only meal I'd ever had there, and it was darn good. That said, they do have a burger selection, as seen on their menu, and as I was too tired to hunt down anything else on the menu, I just uttered, "Cheeseburger" when the waiter came around.
One of the dangers I constantly run across when ordering burgers is the burnt factor. I like my burgers medium, if not medium well, but this can fetch me a very wide range of "doneness." I suppose it's not unlike ladies going into a clothing store for a size 12 and never knowing if you're going to get an eight or sixteen, regardless of what the label says.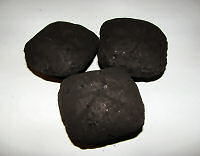 The burger came with what the menu called "home fries" but what other restaurants might call "hash browns." They were chunky, still had the skins on, and were flavored nearly perfectly. Except for the burnt edges. I didn't have a camera with me at the time, but this image here gives you a good idea of some of the potatoes. But not all. I definitely ate the rest. And I ate them first, because potatoes go cold too quickly to save for later. First rule of burgers: always eat the taters first!.
With the taters safely out of the way, I moved on to the burger. It was … well, passable. I mean, as long as you cook some sort of ground meat and place it inside a bun, you've got a burger. And I'm okay with that. I mean, I may be a picky eater, but I'm not a picky eater. Know what I'm sayin'? So that's how I rate it: passable.
Austin Burger Tour #1
Location:
Magnolia Cafe
Burger:
Passable
Fries:
Good when not burnt
Parking:
For the lucky few
Rating:
Of course, to really give every place a fair shake, I really should make six or seven trips. Only then can I really be sure of my score. And if any of my local fans have been here, feel free to chime in. After all, this is just one man's opinion. I could be wrong. I often am.
Next stop? The Oasis!